One of the most important tools in your Airstream maintenance arsenal, a torque wrench is essential for ensuring your wheels are road ready. Before each trip and any time a wheel is replaced, be sure to tighten the wheel nuts, following a "star" pattern back and forth across the wheel. If the wheel was replaced, check the torque every 10, 25, and 50 miles. Aluminum Wheels should be torqued to 110 ft. lbs and steel wheels should be torqued to 100 ft. lbs.
For more information about torquing your Airstream's lug nuts, read more in our Airstream Support article.
This ½" Drive Torque Wrench Tire Change Kit includes a micrometer torque wrench, five-inch extender bar, and 21/19/17mm sockets that cover most common lug nut sizes. The torque wrench comes with a protective head bumper and offers both forward and reverse torque capabilities.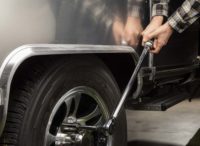 The Science of Lug Nut Torqueing
A travel trailer's wheels must carry much higher loads per wheel than passenger car or truck wheels. Each wheel may carry 1,000 pounds and higher, and because the wheels on a travel trailer do not steer, they are subjected to very high side load stress whenever the travel trailer makes a tight turn.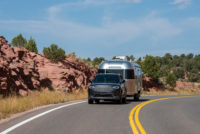 When going around corners, especially on slow, tight turns, the wheels are subject to very strong side loads. This tends to flex the wheel and gradually loosen the wheel nuts. Although the materials and manufacturing methods are maximized for this kind of service, these extra loads can cause stress, which can result in flexing and loosening of wheel nuts. Torquing your lug nuts before setting off on a journey ensures that you're road ready and will help you avoid costly delays due to tire blowouts down the road.