Just as no cross-country road trip is complete without a collage of stickers to commemorate the journey, neither is HAS HEART's "50 States: Veterans + Artists United" tour. On a mission to connect veterans with graphic designers who help tell their stories, HAS HEART is making their way through each of our fifty states in an Airstream. Inspired by each state's license plate, these decals are printed in the U.S.A., made from durable laminated vinyl to protect from scratching, rain, and sunlight, and also feature removable adhesive that is ideal for cars, trucks, and – of course – RVs.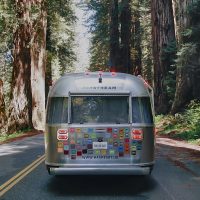 We've been following HAS HEART for a while now as they've journeyed across the country in their Airstream travel trailer on a mission to uplift and inspire US military veterans. By connecting local veterans with graphic designers, the non-profit HAS HEART shares veteran stories through art, design, and fashion. Their goal is travel to every state in the union, stopping in each to connect a veteran with a graphic designer. The veteran shares their story, and the designer captures that story in the form a graphic that can be printed on shirts, patches, or stickers. The collaborative process helps the veterans tell their story, and connects them with their community. Click here to read more about HAS HEART's mission. 
Size of decal / sticker:  4" x 3.67"