Portable, durable, and powerful – Zamp's 90-Watt Long Portable Solar Kit is a great solution for Airstreamers who want to head off grid. Conveniently built into a suitcase-style frame, simply unfold Zamp's 90-Watt Long Portable Solar Kit, attached the cord to the quick connect solar port located on most late model Airstreams, and start harvesting the free energy from the sun.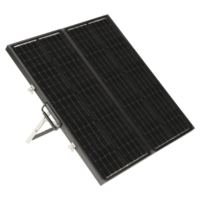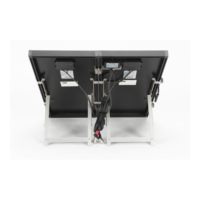 Details:
Built for tight storage spaces, this suitcase portable kit is long, lean, and lightweight. It features a spring handle that lays flat to maximize storage potential and a sleek black anodized aluminum frame.
This 90-watt panel generates enough power for longer off-grid stays in small rigs, or shorter trips in slightly larger RVs. The weather resistant, 5-stage, 10-amp charge controller is integrated into the panel to protect your Airstream's 12-volt batteries from overcharging, while also providing updates on power usage in real time and over longer periods of time on its large digital display.
90-Watt Portable Kit Specs:
22 lbs
30.7" x 14.2" x 3.1"
90-Watt Power Output
Generates 5 amps
10 Amp Solar Controller
25-Year output warranty