The perfect adapter for powering 12V DC appliances from an AC outlet. Whether you're plugging into the outlets in your home or garage, the 12V outlet in your Basecamp or Basecamp 20, or the inverted outlets in your Silver Bullet Airstream travel trailer, this adapter will give you the flexibility to power your travels.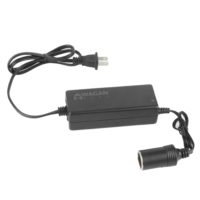 Details:
5A of Power (60W)
Converts AC to DC Power
Works with most 12V DC Appliances
Doubles the Use of your DC Appliances
Easy-to-Use, Plug-and-Play
Safety Protected
Powerful & Compact
*Check the power requirements of your 12V device and be certain that it does not exceed 5 amps (60 watts) prior to plugging it in to the AC to DC 5 Amp Power Adapter.