Getting enough quality sleep at the right times can help protect your mental health, physical health, and the quality of your Airstream life. Sometime more pillows are just better. Sheet sets 53" wide or wider come with two pillow cases, while sheet sets smaller than 53" wide come with one pillow case. If you want an additional pillow case or two, you are now able to order as an add-on purchase. Quantity of one is a single pillow case.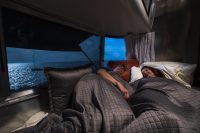 Please Note:

Sheets & Pillow Cases are special order and will ship approximately 2 weeks after order placement via FedEx Ground.  Expedited shipping is not available at this time.  Custom sheets & Pillow Cases are made in the United States and only ship to the United States.
Return Policy: any unopened product can be returned to the vendor within 30 days, provided it hasn't been opened in any way. Please seek return authorization prior to sending in the return via [email protected]
Play hard. Sleep hard - With Airstream Mattresses and Mattress Accessories.