Cork is an abundant natural and renewable resource, and Bambu® is a company devoted to building products using sustainable resources like bamboo and cork. Their cork bowls are stain-resistant, water-resistant and machine washable! Bambu® Adjust-A-Bowls can be shaped, folded and modified for whatever you want to put in them, and will get softer and pliable over time.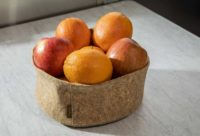 Available in 2 sizes:
Hand wash and wipe dry, or machine wash and wipe dry. Cork fabric is antimicrobial, waterproof and stain resistant.  Made without glues or lacquers.