How does it work?
We're the first to admit that we were intimidated by the AeroPress Go when it first arrived here at Airstream HQ. A strange, syringe-like device, the AeroPress Go doesn't scream coffee maker when you first open the package. Consisting of two, cylindrical chambers, the AeroPress Go combines the great taste of a pour-over with the pressurized brewing method commonly restricted to espresso makers. Making a cup of coffee in the AeroPress go is simple once you learn, though.
The AeroPress Brewing Method:
Put a paper filter in the filter cap and twist the filter cap on to the chamber
Stand the chamber on your coffee mug
Use the handy, included scoop to drop in ground coffee
Add water just off the boil
Insert the plunger
Press down until you reach the grounds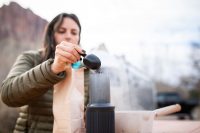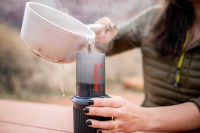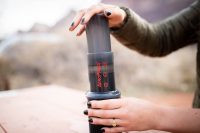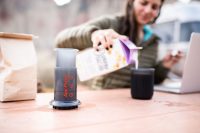 The resulting brew is espresso-strong. For drip-style coffee, simply dilute the concentrated brew by adding more hot water, or add milk to make a simple latte. Clean up is simple: Unscrew the filter cap and press the plunger until the puck of brewed coffee grounds pops out. Then rinse, dry, and enjoy your coffee.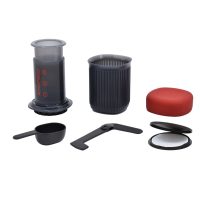 The AeroPress Go travel coffee maker is engineered to fuel an active lifestyle. It gives coffee lovers everything they need to conveniently brew superb coffee anywhere they want. The AeroPress Go brews American, espresso, and cold brew style coffee that can be enjoyed as is or used in a wide range of energizing and refreshing drinks.
Delicious coffee anywhere: Optimized for traveling, camping, boating or just at work
Simple: Smart design is easy to use and clean up takes seconds
Good to Go: Engineered to be the perfect traveler, it is compact, light weight and durable
Superb taste: Free yourself from hotel coffee
Eco-friendly: No more wasteful brewing pods heading to the landfill
Includes: Mug with lid, 350 micro-filters in a storage carton, filter cap, filter holder, stirrer and scoop.