Over the course of Airstream's 90-year history, photographers have been an essential part of telling the Airstream story. From capturing images on founder Wally Byam's early caravans around the world, to families enjoying the great outdoors at the campsite across town, Airstream photographers have helped define this iconic brand. And perhaps no photographer has as much of an impact on the Airstream legend and ethos as Ardean R. Miller, III.
Born in 1915, Miller composed some of the most iconic and stunning images in Airstream history – so much so that they continue to inspire the Airstream world nearly seven decades later.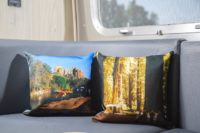 Now, you can bring a bit of Miller magic to your home sofa or the lounge in your Airstream with these vibrant throw pillows. Featuring our favorite iconic Ardean Miller images, this set includes two 12" x 12" polyester dye-sublimated throw pillows.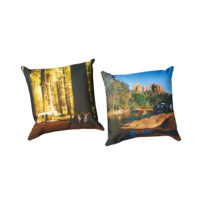 Shop Other Vintage Airstream Items