Around the time Wally Byam was designing the first Airstream travel trailers, French cyclist Alfred Letourneur was racking up victories. In 1938 Letourneur beat the motor-paced world speed record on a bicycle. He was able to reach speeds over 90 miles per hour. But to Airstreamers around the world, Alfred Letourneur may best be known as the man who famously pulled an Airstream travel trailer on a bike.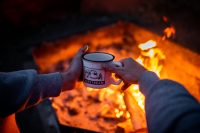 Now, you can be a part of the Letourneur legend with these ceramic mugs emblazoned with the famous image over the Airstream logo. Whether it's a cup of coffee in the morning or a cup of soup at dinnertime, these ceramic-dipped mugs fit just about any bill.
Microwave safe, they come two bright colors.