If there's one thing Airstreamers love more than their shiny silver travel trailers – it's their furry traveling companions. We know life on the road can be hectic – so, we teamed up with our friends at Pup IQ to develop this Airstream-themed traveling pet bowl.
Practical and convenient, these bowls are collapsible for easy storage when on the go. Emblazoned with the "Trailer A" logo, the bottom portion is made from a heavy-duty rubber to ensure ultimate durability while on the road.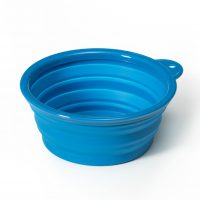 Also includes a clip so the bowl can be securely fastened.
Features:
Product dimensions when open: 7" x 3" x 3"
Collapses to 7" x 7" x 0.75" for easy storage
Collapsible rubber