Getting enough quality sleep at the right times can help protect your mental health, physical health, and the quality of your Airstream life. We know you play hard and want to sleep just as deep. Wrap yourself in luxury with our exquisite American-made, 100% Cotton Sateen sheets. All sheet sets includes a fitted sheet, flat sheet and one or two standard pillow cases. Sheet sets 53" wide or wider come with two pillow cases, while sheet sets less than 53" wide come with one pillow case. Sheets sets for twin beds include a fitted and flat sheet for both the left and right twin as well as two standard pillow cases.
These sheets are truly custom. Choose your mattress size by using our Mattress selector, choose your mattress depth, choose your color, and choose your thread count. An extra 3" is added to whatever the mattress thickness to allow for a nice snug tuck underneath.
Please Note: We are currently experiencing delays on sheets. Please allow 3-4 weeks for delivery.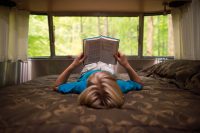 Please double check the dimension of your mattress before placing your order.
Please Note:
Sheets are special order and will ship approximately 2 weeks after order placement via FedEx Ground.  Expedited shipping is not available at this time.  Custom sheets are made in the United States and only ship to the United States. Twin sheets are sold in a set - with both the right and left curve.
Return Policy: Due to their custom-nature, the sheets cannot be returned once received.
Play hard. Sleep hard - With Airstream Mattresses and Mattress Accessories.
Please also check out our sheets in a higher thread count. If you are wondering if the upgrade is worth it - you can noticeably feel the difference in thickness, softness, and smoothness.
Play hard. Sleep hard - With Airstream Mattresses and Mattress Accessories.
DETERMINE YOUR MATTRESS SIZE
Custom mattress selector uses the model and model year of your Airstream to determine the most likely mattress size installed at the factory.  Please measure your specific unit to verify the size.