A washable, breathable and easy to remove mattress pad adds a bit of extra softness while providing protection for your mattress from body moisture and spills. At 1/4" thick and with elastic sides, it fits snug like a sheet. Made from 50% polyester and 50% cotton, the polyester filled quilted pad is custom made to fit the unique shape of your Airstream mattress.
Please note: Due to the custom nature of the mattress pads, they cannot be returned once received.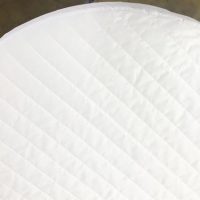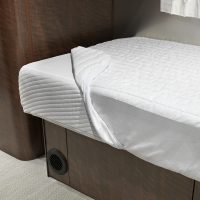 Please note: We are currently experiencing delays so mattresses, sheets and accessories may not ship within the standard two week time-frame.  
Please double check the dimension of your mattress before placing your order.

The Airstream Mattress Pad is special order and will ship approximately 2 weeks after order placement via FedEx Ground. Expedited shipping is not available at this time. Custom sheets are made in the United States and only ship to the United States. Twins are sold in a set - with both the right and left curve.
Play hard. Sleep Hard - With Airstream Mattresses and Mattress Accessories.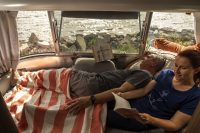 DETERMINE YOUR MATTRESS SIZE
Custom mattress selector uses the model and model year of your Airstream to determine the most likely mattress size installed at the factory.  Please measure your specific unit to verify the size.