Part of the Care Camps Collection on Airstream Supply Company, these greeting cards feature a beautiful oil painting by artist Joe Heins. Inspired by the rocky beaches of Acadia National Park in Maine, Heins first sketched out his ideas before creating a one-of-a-kind original piece of Airstream-flavored art.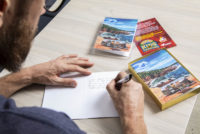 From holiday greetings to thank you notes, these Airstream Greeting Cards are the perfect way to stay connected to family and friends.
Care Camps was founded in 1984 by the KOA (Kampgrounds of America) Owners' Association to provide opportunities for children with cancer to attend oncology camp with other kids going through similar health crises. These camps give kids struggling with cancer diagnoses to escape from the pain, frustration, and suffering and gain some sense of normalcy with other kids in the outdoors – all while receiving the life-saving treatments they need.
The sale of these playing cards Greeting Cards – along with other items in our Care Camps Collection – directly supports Care Camps, helping to fund their operational cost. As the number of children diagnosed with cancer continues to rise, so too does the cost of sending children to these essential camps – upwards of $1,800 a week per child. With families already financially burdened with the cost of health care, Care Camps provides a life-changing service at no cost to the families.
Send well wishes, thank yous, and holiday greetings with these beautiful Airstream notecards from Care Camps.
Also Available in the Care Camps Collection: