Whether you're writing down a shopping list, making note of the GPS coordinates of a great trailhead, or recording memories made at your most recent destination, a good notebook is essentials while on the road.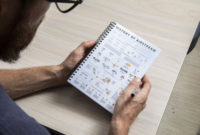 Keep this spiral-bound notebook in your Airstream, close at hand where it's easy to jot notes, brilliant thoughts, or inspiration from the road. The cover is printed with graphics from our History of Airstream Print collaboration with Pop Chart.
6 inches by 8.5 inches.
More from Our History of Airstream Collection