When you're an Airstreamer, shopping local is a state of mind. Your "local" is wherever you happen to be on that particular leg of your journey. But for all of us here at Airstream HQ in Jackson Center, Ohio, our "local" is west-central Ohio, where the Miami River cuts a shallow valley through rich farmland and past numerous manufacturing facilities like the one where we make the world's most iconic travel trailer.
Ohio's Miami Valley is full of craftspeople who devote time and energy to building and making things by hand. One of our favorite homegrown operations is Living Simply Soap down the road in Tipp City, Ohio. Founded in 2007 by Tanya Brown and her family, Living Simply Soap caught our attention at the local farmer's market. Their soap was a huge hit, and soon they'd purchased a historical building in downtown Tipp City where they could operate a soap shop and house their handcrafted soap-making operation.
Now, Airstream has teamed up with Living Simply Soap to create unique soaps, lotions, and room sprays that are perfect at home or on the road in your Airstream.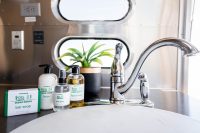 This premium hand and body lotion leaves your skin silky soft and feeling renewed. Jojoba, aloe, and avocado oil repair while the vitamin E and shea butter protect, seal and moisturize. Silk amino acids give this blend a wonderful after feel without the greasiness! We've partnered to bring these 8 oz. bottles to Airstream Supply Company fans in two scents: Mountain Lavender is a blend of lavender and sage, while Cedar Grove is a blend of cedarwood, tobacco and bay leaf, along with subtle notes of bergamot and fir needle.
Ingredients:
Deionized Water
Grape Seed Oil
Avocado Oil
Caprylic/Capric Triglyceride
Emulsifying Wax NF
Glyceryl Stearate
Jojoba Seed Oil
Shea Butter
Aloe Leaf Juice
Stearic Acid
Vitamin E
Silk Amino Acids
Glycerine
Sorbitol
Cyclopentasiloxane
Fragrance Oil
Optiphen®
Methyl Cellulose
Allantoin