A Collection of RV Essentials in One Convenient Bundle
A sewer hose support, leveling pads, water pressure gauge, and wheel chocks. Save with a bundle – or add items a la carte to customize for your needs.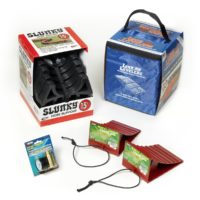 Slunky Sidewinder Sewer Hose Support
Make sure everything is flowing downhill with one of our favorite "you don't realize how much you need it until you try it" accessories. Navigate your sewer hose around and over obstacles, and ensure a proper elevation for best drainage. Ridged feet provide gripping power and a self-fastening snap makes for easy storage.
Water Pressure Gauge 
Extreme water pressure can damage your Airstream's plumbing system. Keep an eye on water pressure flowing into your onboard system with this handy water pressure gauge from Valterra that attaches between the city water outlet and your fresh water hose. The gauge measures water pressure up to 120 PSI, with 60 PSI and above indicated in red. Monitor the rising pressure as you open the flow and stop when you reach your desired water pressure. Lead-free, this gauge conforms with federal and state laws for drinking water fixtures.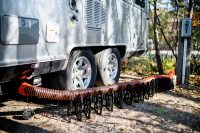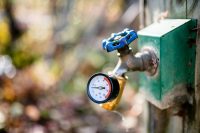 Wheel Chocks (Set of Four)
Keep your Airstream firmly in place with these durable wheel chocks. Designed with a textured surface for better grip, rest assured your Airstream won't budge no matter the terrain. A nylon cord is attached for easy removal when packing up.
 Lynx Levelers: 10 Pack
Strong and durable, Lynx Levelers are the perfect solution for setting up camp in a less than level situations. Featuring 10 interlocking blocks that can be stacked in a variety of ways, Lynx Levelers are a versatile piece of every Airstreamer's RV tool kit. Made in the USA and easy to use, Lynx Levelers come in a pack of 10. Includes a nylon storage bag.