Protect your investment
While we'd like to think that we all Leave it Beautiful wherever we go, the unfortunate fact is that American highways can be a debris-strewn obstacle course. You can find everything from semi tire treads, rocks, and metal of all sorts littering our roadways. And that's not even mentioning the dust, mud, snow, oil, grime, and other pollutants. With the Rock Tamers Mud Flap System, you can tow with piece of mind, knowing your investment has the best debris protection on the market.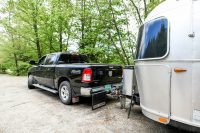 Why Rock Tamers?
While it may be obvious, it can't be stressed enough how much damaging debris gets tossed at your Airstream as you roll down the highway. As your rear wheels rotate, rocks and debris get stuck in the treads and centrifugal force tosses them at high speeds backwards – right at your Airstream.
What might not be obvious: As your tow vehicle and Airstream roll down the highway, air currents begin to swirl off your tow vehicle. This creates a whirling cylinder of air between your tow vehicle and your Airstream that catches debris of all sizes. Like a tornado picking up everything in its path, this column of swirling air tosses a barrage of air particles at your Airstream – particles that can dent, ding, and damage your Airstream.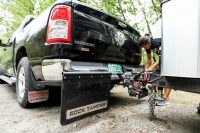 Without the Rock Tamers Mud Flap System, all that debris flying at your Airstream can cause dings, dents, and damage. The cost of repair pales in comparison to the cost of investing in the most robust towable protection you can buy.
Innovative component system
This Rock Tamers Mud Flap system provides all the protection you'd expect from the number one debris protection brand. Quality hardware, expert design, and an easy, logical installation process makes Rock Tamers your choice for keeping road debris from striking your Airstream while in tow. Through normal use, mudflaps take a beating. Normal wear and tear means that parts may eventually wear out, but the Rock Tamers system allows you to easily replace components when time and use take their toll. Plus, you can customize your Rock Tamers with Airstream name plates, available now from Airstream Supply Co.
Craftsmanship
Like Airstream, Rock Tamers takes quality and craftsmanship seriously. Their patented system ensures easy setup with minimal tools, durability, and longevity. The Rock Tamers Mud Flap system works to protect not only your Airstream, but boats, personal watercraft, and anything else you may tow behind you.