From the snowy wonderland of the Rockies in the west to Maine's appropriately-named Sugarloaf Mountain in the east, the Airstream X MTN Local snowboard will see you carving the groomers and gliding through the powder on its unique swallowtail shape. A wonder of hand-made construction, this snowboard was designed in partnership with MTN Local Snowboard's master craftsman Max Holzman. Taking inspiration from the angles and shape of Airstream's Basecamp X Travel Trailer, Holzman hand-crafts each snowboard to order in his workshop in the Green Mountains of Vermont.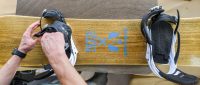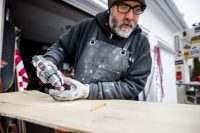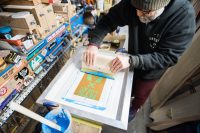 Using high-quality, responsibly-forested hardwood laminates and reinforced with fiberglass, MTN Local Snowboards are built by hand using plant-based glues that are both durable and environmentally-friendly. Screen-printed with the Airstream X MTN Local logo in blue, this is a beautiful board that looks great and performs even better on the mountain.
Choose from three sizes:
Mens 148
Mens 152
Womens 142
Please note: This unique snowboard is hand-crafted to order. Allow 3-4 weeks for delivery. Bindings, boots, and other accessories not included.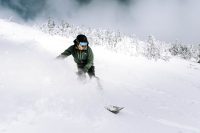 Airstream Supply Co. visited the MTN Local Snowboard workshop for an inside look at the production of this beautiful snowboard. Read on for a tour of Max Holzman's Essex, Vermont workshop.