From routine maintenance to polishing, there are many ways to give your Airstream a facelift. One of the easiest upgrades you can do to the exterior of your Airstream travel trailer – and one that will ensure lasting performance for years – is to switch out plastic components for heavy-duty stainless steel parts. Most exterior parts can be replaced easily with minimal tools and some skill.
Five Stainless Steel Upgrades to Replace the Plastic Components on Your Airstream
A water fill compartment, exterior shower compartment, range exhaust vent, outlet cover and cable connector cover bundled for savings.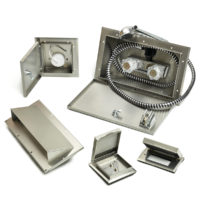 Included Accessories:
Stainless Steel Upgrade: Waterfill w/Lock
For those looking to upgrade the exterior components of their Airstream travel trailer, we offer a variety of solutions that complete the shiny, silver look. This Stainless Steel Waterfill compartment comes with a lock and replaces the plastic, gray compartment on most Airstream travel trailers. Measures approximately 7" x 6".
Stainless Steel Upgrade: Exterior Shower Compartment
For a clean, shiny look to the exterior of your Airstream travel trailer, this Stainless Steel Exterior Shower Compartment Upgrade is essential. Kit includes a chrome faucet with hand-held shower head, and replaces the plastic compartment on late model Airstream travel trailers. Compartment measures approximately 13" x 8" and the opening in the shell may require enlarging during installation.
Stainless Steel Upgrade: Exterior Outlet Cover
Upgrade the look of your Airstream travel trailer's exterior with this Stainless Steel Exterior Outlet Cover. This custom-designed stainless steel outlet cover replaces the plastic cover that comes standard on most Airstream travel trailers, and comes complete with preinstalled gaskets. Requires two stainless steel screws (not included) and measures 4" x 3" x 1".
Stainless Steel Upgrade: Exterior Cable Connector Cover
Upgrade the exterior cable connector cover on your Airstream Trailer with this custom designed stainless steel replacement. The gaskets are already installed on the outlet. Install with just four stainless steel screws. Measures approximately: 4 1/2″ x 3 3/4″ x 1″.
Stainless Steel Upgrade: Range Exhaust
Replaces the painted plastic range exhaust vent found on most Airstream Trailers. Measures approximately 11 5/8" x 5 3/16" and includes a gasket to keep the metal edges off of the aluminum skin of your Airstream. Some additional sealant maybe required: Sikaflex, Acryl-R or Ad-Seal can be used.
Or Shop A La Carte