Made from Burmese Teak, a pure heartwood from mature Teak trees grown in the Indonesia/South East Asia region, these custom Airstream shower shower bench seats are handcrafted in Winona, Minnesota. The folks at Teakworks4u are a team of carpenters and woodworkers with an unparalleled depth of experience and a bottomless passion for their work.
For centuries, South Asian craftsmen have used teak to create boats and furniture because of the wood's renowned beauty, durability and reliability. In recent years, teak has come stateside, and you don't have to be a shipbuilder to appreciate the wood's superior qualities. A teak mat evokes luxury. But it's also a moisture-resistant warrior that fends off the years.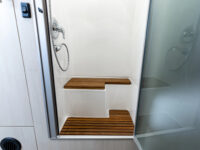 Any mat continuously exposed to water is going to mold, mildew and rot. Unless it's made of teak. A tropical hardwood, teak is highly resistant to water damage because its natural oils act as preservatives. What's more, teak has natural silica laced into the wood, so you won't slip or slide on the mat when your shower gets soapy.
These custom teak shower bench seats are handcrafted, special order items and will ship 2-3 days after order placement. Please check your shower bench shape before ordering. Instructions for the care of your teak shower bench will be included.
Mat Size: 29.5" x 12"
This mat will fit the following models:
2009-present: Flying Cloud 25RB + 28RB
2004-present: International 25RB + 28RB models
2022-present: Pottery Barn SE 28RB
2004-2008: Safari 28RB + 28 Slide-Out models