The Airstream touring coach 2-Inch Memory Foam Topper instantly makes the bed your coach restful, comfortable, and supportive. Made in the USA, our Memory Foam Topper conforms to your body perfectly. Reducing pressure points that cause you to toss and turn, this mattress topper helps you have a better night's sleep.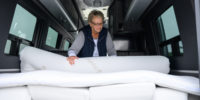 Please Note: There are two options available for the Interstate GT/GL.
Interstate GT/GL Standard: a topper made for the bed without any optional sofa extenders.
Interstate GT/GL w/Sofa Extenders: a topper with extra length for those wishing to use the optional sofa extenders that are placed near the rear doors of the coach.
Features:
Long-lasting: Unlike other low-density memory foam, this topper is constructed using medical grade high-density memory foam and is designed to last 7-10 years of every night use
Made in the USA: Avoid the low quality and off-gassing chemicals common to imported mattress toppers by buying American-made
Eco-Friendly Facility: Formulated in one of only two certified zero-emissions facilities in the US
Breathable: The Airstream Custom Memory Foam Mattress Topper increases airflow and minimizes overheating while you sleep
Please note: We are currently experiencing delays so mattresses, sheets and accessories may not ship within the standard two week time-frame. 
The Airstream Touring Coach Memory Foam Topper is a special order and will ship approximately 2 weeks after order placement via FedEx Ground. Expedited shipping is not available at this time. Custom sheets are made in the United States and only ship to the United States.
Return Policy: Any unopened product can be returned to the vendor within 30 days, provided it hasn't been opened in any way. Please seek return authorization prior to sending in the return via [email protected]
Also available: Sheet sets custom-sized for your touring coach.