The perfect option for Airstream Club International members who want to proudly display their big red club numbers while preserving the shiny look of their Airstream travel trailer.
These sturdy Airstream-shaped plates are made from brushed aluminum and provide enough room to apply your club numbers and display them in style. Whether you hang your number plate or prop it up at your campsite, show the world you're part of the largest Airstream club in the world.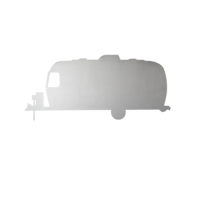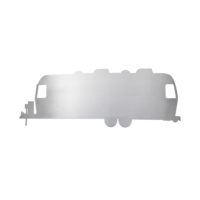 Created in 1955, the Wally Byam Caravan Club has evolved over the decades but remains true to its roots of bringing together Airstreamers from across the country and around the world for shared experiences and road trip adventures. Founded by Helen Byam Schwamborn – cousin of Airstream founder Wally Byam – the club conducted Caravan trips throughout the United States and Canada, and orchestrated some of the most adventurous Airstream trips ever, including the 1956 European Caravan and Cuban Caravan, the 1959-60 Cape Town to Cairo Caravan, the 1963-64 Around the World Caravan.
Seventy years later, the club has adopted the new moniker of Airstream Club International, but retains the original philosophy of seeing what's over the next hill and rallying together in friendship and community.