Airstream founder Wally Byam famously promised that his products would allow you to travel "with all the comforts of home." Show your love for Wally's philosophy with this felt camp flag from Oxford Pennant.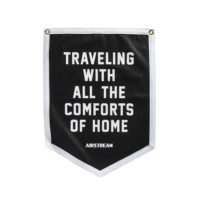 Crafted from cut-and-sewn wool felt with a screen-printed design, this flag measures 18" x 24" and will make a statement on the walls of your Airstream or at home.
Not recommended for outdoor use.