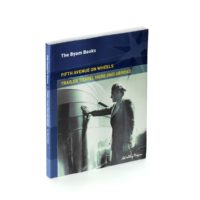 "The Byam Books" by Wally Byam
Wally Byam wasn't just the founder of Airstream. He was an engineer, a tour guide, and an expert marketer of his product. He was also an excellent writer. Now, Wally Byam's great books from the golden age of Airstreaming are once again available in this special edition by Airstream Life Magazine.
Fifth Avenue On Wheels and Trailer Travel Here and Abroad are Wally's historical masterpieces, describing firsthand the incredible adventures he personally experienced back in the 1940s and 1950s. Both books – long out of print – are contained in this special single volume, totaling 279 fun and informative pages. Includes a forward by Wally's cousin, Dale "PeeWee" Schwamborn.