Airstream founder Wally Byam married Estelle (Stella) Hall in 1952. Wally and Stella were a perfect match, both fun-loving and adventurous. Stella enthusiastically joined Wally as he led Airstream caravans around the world. Together they found joy in dancing and dining at local restaurants wherever they traveled, whether it be through Mexico and Central America or across Europe.
Beloved by all for her kind and joyous nature, Stella supported Wally's promise to provide Airstream owners with a world of fun, fellowship, and adventure to faraway lands. In fact, it was Stella's plan for the "ideal" Airstream that led to the creation of the famous Gold Airstream which she and Wally used on the iconic Cape Town to Cairo Caravan.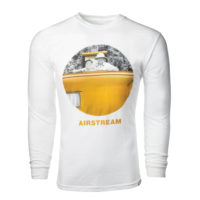 Paying homage to Wally and Stella, this long sleeve men's tee features an iconic shot of Wally and Stella with Stella's Gold Trailer.
Shop More Wally & Stella and Celebrate the Iconic Gold Airstream