Like Airstream, Barebones builds products that are made for the long haul. The new All-In-One Cast Iron Skillet collection from Barebones is no exception. Inspired by Japanese cookware and thoughtfully designed for open fire use, these skillets feature quality cast iron construction, Dutch Oven-style lids, incredible heat distribution, and an extended handle. Pure copper accents make these skillets a dream to cook with, whether you're in the campsite, the Airstream galley, or your kitchen at home.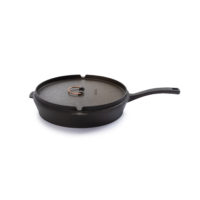 The All-In-One Skillet comes in three versatile sizes: 6 inch, 10 inch, and 12 inch. Each skillet is pre-seasoned with organic sunflower oil and ready to use right out of the box. Please Note: Due to a thicker base than similar products, we recommend cooking "slow and low" to get to know your pan. Like all new skillets, sticking can occur and will decrease over time.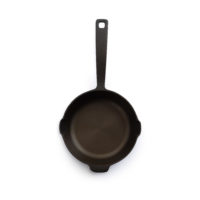 Features:
Japanese-inspired design
Polished finish on skillet cooking surface
Included Dutch oven style lid
Underlid can be used as additional cooking surface
Pre-seasoned with organic sunflower oil
Non-stick characteristics over time
Copper accents
Extended handle for easier handling and safety
Ergonomic handle design
Added hole in handle for hanging
Thicker base distributes heat evenly
Lighter weight than similar products
Airstream + Barebones: Dedicated to Quality Craftsmanship
Your Airstream feeds your need to explore and see what's over the next hill. With expert craftsmanship and attention to detail, Barebones products feed the same sense of adventure your Airstream inspires – filling you up both literally and figuratively. Their open-fire cooking implements and expertly-crafted culinary tools elevate campsite dinners while their incredible camp accessories elevate the experience.