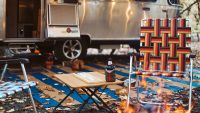 The Backtrack Chair from KUMA: Have a seat in retro style
We love KUMA's incredibly-designed camp furniture. But while we love a super-comfortable, colapsible camp chair as much as the next person, there's something wonderfully simple about the throwback style of their Backtrack chairs. Featuring names drawn from a certain 70s show, the Backtrack is strung with heavy-duty, seatbelt fabric and supported by strong aluminum tubes. It's durable, lightweight, and folds down to a slim profile.
Available in sets of two in two retro colorways.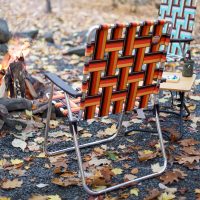 Features:
Weight limit: 280 lbs
Available in two colorways: THE FEZ (Teal/Brown) and THE KELSO (Orange/Brown)
Dimensions:  25" (W) x 35" (H) x 23"(D)
Seat Height: 16"
More Backtrack Chairs from KUMA