Colorado is an Airstreamer's paradise, full of dramatic landscapes, incredible campgrounds, and adventures aplenty. Every time we're in the Centennial State we stock up on spices, sauces, and marinades from Evergreen Cooking School. A truly unique culinary experience, Evergreen Cooking School offers locals an incredible spot for a quick meal, as well as cooking classes to help you level up your cooking skills.
But it's the prepackaged spices, rubs, marinades, and sauces from Evergreen Cooking School that let you take this incredible Colorado culinary experience on the road. Airstream Supply Company is excited to bring Evergreen Cooking School to our collection, giving everyone the opportunity to stock the Airstream cupboards with the perfect flavorings to level up your campsite cooking.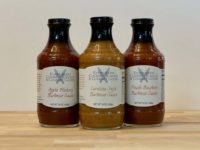 What's Included in This Bundle?
Apple Hickory BBQ Sauce: Captures the smoky essence of hickory wood, with the additional undertone of sweet apples.
Carolina BBQ Sauce: A vinegar and mustard base combine for sweet and tangy flavors that bring out the best in grilled or smoked pork and poultry.
Peach Bourbon BBQ Sauce: Peaches and bourbon give this great tasting BBQ sauce a delicious, new twist.