We love the incredible hand-crafted signs, flags, and pennants made by the fine folks at Oxford Pennant, and so we teamed up for a collection of vintage-inspired decor accessories inspired by some of Airstream's greatest adventures. Perfect for hanging in your home office or adding a splash of felted fun to your Airstream, these pennants and signs offer daily reminders that the best adventures are the ones that help you #LiveRiveted.
One of the most indelible Airstream images in the company's 90+ years features renowned cyclist Alfred Letourneur pulling an Airstream travel trailer on a bike. Now, that famous image has been lovingly rendered in hand-crafted felt in this vintage-inspired pennant flag from Oxford Pennant.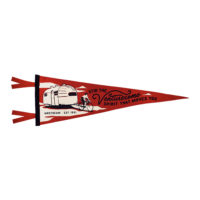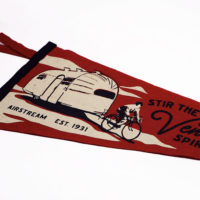 Features:
Custom made by Oxford Pennant
Dimensions: 9" x 27"
Handcrafted
Material: Cut-and-sewn wool felt and screen-printed design
Not recommended for outdoor use
The History of an Iconic Image
Around the time Wally Byam was designing the first Airstream travel trailers, French cyclist Alfred Letourneur was racking up victories. In 1938 Letourneur beat the motor-paced world speed record on a bicycle. He was able to reach speeds over 90 miles per hour. But to Airstreamers around the world, Alfred Letourneur may best be known as the man who famously pulled an Airstream travel trailer on a bike. In 1947, as part of an Airstream publicity campaign, Letourneur pulled a 22-foot Airstream Liner at the Van Nuys Airport in California. The image became the basis for an iconic Airstream logo from that era.