Achieve excellent cooking precision and responsiveness without the weight of traditional cast iron. Available in 9" and 12" versions, these beautiful carbon steel skillets from Barebones feature a hand-blued finish and an extended dark walnut handle for a truly unique take on the classic carbon pan. Sleek and professional, yet rugged and durable, these skillets provide unmatched heat distribution, seamless indoor/outdoor use, and a satisfying non-stick surface over time.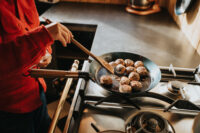 Features
• Carbon steel hand-blued finish
• Develops a natural non-stick coating over time
• Quick heating qualities and temperature retention
• Lightweight for easy handling and maneuverability
• Durable removable walnut handle
• For indoor/outdoor use
Materials
• Stainless Steel
• Carbon Steel
• Walnut
• Copper
Specs
9" Skillet
• Dimensions: 17.75" x 9.25" x 3"
• Weight: 2 lbs
12" Skillet
• Dimensions: 21.75" x 12" x 3.5"
• Weight: 2.6 lbs
Care
Store in a cool, dry place when not in use. Wipe down after use to prevent rust.