Join Airstream and the National Forest Foundation (NFF) on the Caravan to Carbon Neutral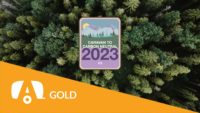 Your Gold Carbon Reduction Kit from the NFF includes: 
2023 Caravan to Carbon Neutral 5" x 4" Decal
2023 Caravan to Carbon Neutral Virtual Badge on Airforums.com
Funding for the National Forest Foundation's efforts to plant 100 trees
An estimated 50 tons of carbon sequestered over the course of the trees' lifetimes – the equivalent of an estimated 124,000 passenger vehicle miles
Tax-deductible donation through the NFF
Looking for a way to thank Mother Nature for all those great outdoor adventures? A Caravan to Carbon Neutral Carbon Reduction Kit is no doubt on her wish list. Your tax-deductible purchase through the National Forest Foundation (NFF) of a Gold level kit enables the NFF to plant 100 trees in our National Forests. Those added trees will enhance some of our most beautiful public lands and sequester approximately 50 tons of carbon, roughly the amount emitted by driving a passenger vehicle 124,000 miles as you adventure across Mother Nature's majesty.

Your gratitude and support will be acknowledged with a 2023 Caravan to Carbon Neutral decal suitable for placement on your Airstream and a badge to display on your Airforums profile.
Also Available
Carbon sequestration is facilitated through the National Forest Foundation's (NFF's) existing tree planting program. NFF has committed to use best efforts, along with the United States Forest Service to complete tree planting within twelve (12) months of receipt of funds; carbon sequestration estimates through tree planting are calculated using the value of .5 metric tons of carbon dioxide equivalent (CO2e) sequestered per tree over its estimated lifetime of 100 years. Mileage equivalencies are estimated using the EPAs Greenhouse Gas Equivalencies Calculator.