Join Airstream and the National Forest Foundation (NFF) on the Caravan to Carbon Neutral.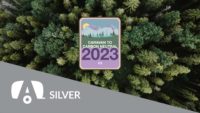 Your Silver Carbon Reduction Kit from the NFF includes:
2023 Caravan to Carbon Neutral 5" x 4" decal
Funding for the National Forest Foundation's efforts to plant 50 trees
An estimated 25 tons of carbon sequestered over the course of the trees' lifetimes– the equivalent of an estimated 62,000 passenger vehicle miles
Tax-deductible donation through the NFF
What could possibly improve an Airstream adventure into the wild? How about knowing that you are protecting magical places by offsetting your carbon emissions and supporting our National Forests? That would feel pretty good, right?
A Caravan to Carbon Neutral Carbon Reduction Kit can give you those vibes. Your tax-deductible purchase through the National Forest Foundation of a Silver level kit allows the National Forest Foundation to plant 50 trees in our National Forests. Those trees will help improve popular outdoor adventure areas and capture approximately 25 tons of carbon, roughly the amount emitted by driving a passenger vehicle 62,000 miles.
Your commitment to a healthier environment will be acknowledged with a Caravan to Carbon Neutral decal suitable for placement on your Airstream.
Also Available
Carbon sequestration is facilitated through the National Forest Foundation's (NFF's) existing tree planting program. NFF has committed to use best efforts, along with the United States Forest Service to complete tree planting within twelve (12) months of receipt of funds; carbon sequestration estimates through tree planting are calculated using the value of .5 metric tons of carbon dioxide equivalent (CO2e) sequestered per tree over its estimated lifetime of 100 years. Mileage equivalencies are estimated using the EPAs Greenhouse Gas Equivalencies Calculator.