Cast iron takes outdoor dining from a simple meal to sensory experience. From the smell of the woodfire, to the shimmering simmer of the coals, to the sizzle when the ingredients hit the hot surface, and the finally tasting your creation at the end, cast iron cooking is an abundance of riches. The cast iron experience puts us in touch with the one thing that above all else makes us human: The ability to understand, create, and nurture fire.
Barebones makes some of the best gear we've laid eyes and hands on. Their cast iron skillet is a functional work of art. Whether frying shoshito peppers in your Airstream galley, or cooking eggs and toasting bagels over what's left of last night's fire, the Cast Iron Skillet from Barebones is an essential piece of cooking gear.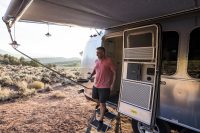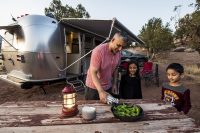 Complete with comfortable grip handle, dual pour spouts, and iconic heat dispensing technology. Increased steel means no cracking or breaking with rapid temperature change, and 15% lighter weight than similar cast iron products. Pre-seasoned with natural, organic oils so it's ready to use right out of the box with your stove, oven, or on an open-fire.
Features:
Ergonomic, heat-dispersing, comfort-grip handle
Dual pour spouts for left or right pouring
Limited lifetime warranty
8": 15.5" x 8.5" x 2.5" | 3.2 lbs
10": 18" x 10.75" x 2.75" | 5.2 lbs
12": 19.75" x 12.5" x 3" | 6.8 lbs