When it comes to cleaning your Airstream, you want something that provides superior cleaning power with abrasive cleaners that might damage the surfaces. For more than 20 years, E-Cloth has been on a mission to create incredible cleaning cloths and cleaning materials that provide high performance cleaning capability – with just water.
E-Cloth's unique manufacturing process produces high-quality microfiber materials. When you clean with E-Cloth products and water, dirt and grime is trapped into the extra small voids found within the fibers, delivering a perfect performance, every time. E-Cloth's task-specific cloths, scrubbers, and mops deliver a high-performance clean for every task, every time — with just water. Don't just push the dirt around: E-Cloth plus water gets the job done.
Old-School Look With New-School Drying Power
Four times more absorbent than an ordinary cotton dish towel, the E-Cloth Classic Check Dish Towel dries dishes, glassware, and flatware in a nano flash. Packed with superfine fibers, the premium microfiber blend never leaves lint behind. Guaranteed for 3 years or 300 washes, it cuts down on laundry and waste, leaving a perfectly clear finish that makes drying dishes is as easy as swipe and smile.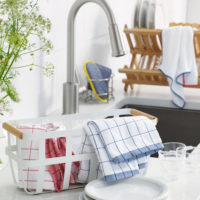 Details
Daily: Hang out your Classic Check Dish Towel after use.
Weekly: Machine wash up to 195°F (hot) with a small amount of detergent. No fabric softener or dryer sheets. Tumble or hang dry.
As often as you like: To clean your Classic Check Dish Towel, boil in just water.
Oops! Instructions: If fabric softener or dryer sheets are used by accident, rewash with a little detergent on the highest temperature setting.
Made to last: This Classic Check Dish Towel comes with a 3-year or 300-wash guarantee (when used and cared for as recommended).