The OXO Airstream Lavvy Bundle
Included in this Four-Piece Bundle
Wiper Blade Shower Squeegee
Aluminum Shower Caddy
Scrub Brush
ClipHanger Set
Details
Wiper Blade Shower Squeegee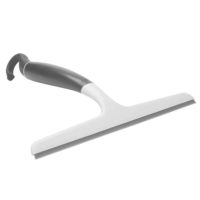 Inspired by windshield wipers, the precision-edge blade flexes as you wipe, for a smooth, low-friction swipe every time. The rotating hook allows you to store the Wiper Blade Squeegee on showerheads, caddies, towel bars and more. Soft, comfortable handle is non-slip, even when wet.
Aluminum Shower Caddy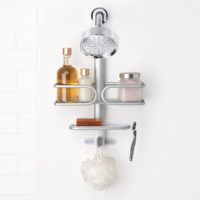 Like your favorite silver bullet, this Aluminum Shower Caddy by OXO will never rust. Perfect for tight spaces, the anodized aluminum frame and shelf provide structure and keep even deluxe-sized shower essentials contained without bending. Tool-free installation is simple, just place the non-slip hook over your shower head pipe and pull down, then use the suction cups to secure the Caddy to the wall for extra stability. With thoughtful details like a large, removable soap tray, built-in razor holder and hook to hold loofahs, mesh scrubbies and more, this Shower Caddy will keep you – and your shower – squeaky clean and super neat.
Scrub Brush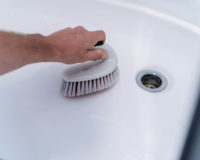 The OXO Good Grips All-Purpose Scrub Brush provides a powerful scrub with the help of a contoured handle, which absorbs pressure and protects your knuckles while you clean. The strong, sturdy bristles cut through any Airstream cleaning projects – from the kitchen to the bath and even outdoors. The versatile Scrub Brush has a curved neck to conveniently hang from the rim of your bucket or caddy. The soft, comfortable handle has a non-slip grip, even when wet.
ClipHanger Set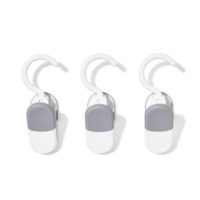 The extra-strong clips keep heavy items like boots off the floor, while the non-slip grip keeps them suspended until you need them. These compact clips are perfect for travel, and the hook folds away for easy storage when not in use. The ClipHanger is ideal for hanging delicates in the laundry room, allowing wet bathing suits to drip dry in the shower and organizing items around the Airstream.