The OXO Airstream Cleaning Bundle
Included in This Convenient Bundle
Scrub Brush
Bottle Brush
Cast Iron Pan Brush
Microfiber Duster
Dustpan + Brush Set
Details
Scrub Brush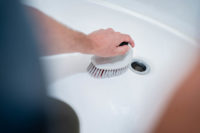 The OXO Good Grips All-Purpose Scrub Brush provides a powerful scrub with the help of a contoured handle, which absorbs pressure and protects your knuckles while you clean. The strong, sturdy bristles cut through any Airstream cleaning projects – from the kitchen to the bath and even outdoors. The versatile Scrub Brush has a curved neck to conveniently hang from the rim of your bucket or caddy. The soft, comfortable handle has a non-slip grip, even when wet.
Bottle Brush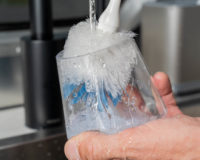 Until you use a bottle brush on a regular basis, you don't realize how handy they are – in fact, we like to keep both the bottle brush and the dish brush on hand in the galley. Travel coffee mugs and water bottles are essentials in your Airstream life. Give them the deep cleaning the deserve – every time – with OXO's bottle brush. The specially shaped head scrubs sides, corners and bottoms and has durable, dual-action bristles made for heavy-duty cleaning without scratching. The long neck easily reaches inside bottles, pitchers and carafes, while the soft grip won't slip, even when wet. Safe for stemware, baby bottles and other delicate containers
Cast Iron Pan Brush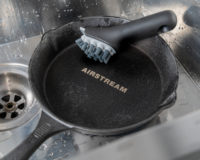 We love cast iron. When it comes to cooking over open fire, nothing beats the versatility, heat retention, and style of a great cast iron griddle, skillet, or flat pan. One of the great benefits of cast iron is the easy way you can clean it up with just water – but you have to have the right brush to tackle the toughest burned on bits. We love OXO's Cast Iron Pan Brush for keeping our Barebones cast iron collection clean for when we throw it in the tow vehicle.
Microfiber Duster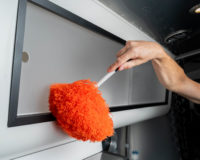 The Delicate Duster's microfiber strands trap and hold dust without the need for cleaning chemicals. The soft, comfortable handle and light, fluffy head make it easy to dust picture frames and other delicate items. After dusting, the machine-washable head pops off with a push of a button.
Dustpan + Brush Set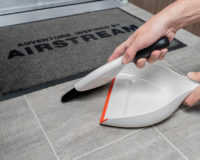 Every Airstream needs a dustpan and broom. With a whisk-broom shape, OXO's brush easily sweeps from above, while the dustpan's rubber lip conforms to surfaces, making sure every last bit is swept up. The brush features a soft, non-slip handle for a comfortable grip. Brush snaps into dustpan for convenient storage.