We love OXO for the way they solve frustrating problems with clever solutions – and their Clip Hanger Set is a perfect example. Perfect for a variety of uses around the Airstream, the swivel hook allows you to angle the clip in any direction to keep items neat on rods, hooks or in closets. Hang kitchen towels and cleaning cloths from knobs or handles.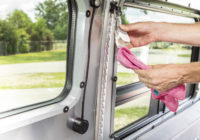 The extra-strong clips keep heavy items like boots off the floor, while the non-slip grip keeps them suspended until you need them. These compact clips are perfect for travel, and the hook folds away for easy storage when not in use. The ClipHanger is ideal for hanging delicates in the laundry room, allowing wet bathing suits to drip dry in the shower and organizing items around the house.
Also available as part of our convenient Airstream + OXO Bundles.
Why OXO?
Since 1990, OXO has produced the very best cooking tools, kitchen gadgets, and home cleaning products. With a clean focus on simple, durable, and ergonomic designs, OXO transforms everyday objects into essential tools that make life easier. Their tools fit comfortably in hand and make routine tasks enjoyable. Like Airstream, OXO has a firm dedication to improvement and innovation through design. Where Airstream founder Wally Byam pledged to not make changes, "but only make improvements," OXO follows a similar mantra: If we can't make something better, we don't make it.
We're excited to bring dozens of OXO products to Airstream Supply Company. Shop convenient bundles or a la carte and create the perfect solution for your Airstream.