Lightweight, compact, and perfect for travel, the COBA Board's patented counterbalance and functional resistance help to shape, tone, and build difficult to activate glute muscles faster, safer and more effectively than traditional methods. The COBA board gives you dozens of easy-to-perform exercises in a convenient package that's easy to stow away while traveling. Stay fit on the road, or get yourself back into shape for summer camping season with one of the most versatile, exciting exercise products we've seen.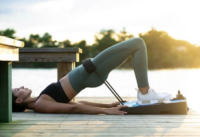 Because many of us sit on our glutes all day, the neural pathways to activate the glute muscles are weakened and it is extremely difficult to activate our glute and hamstring muscles. The COBA Board Glute Trainer was created to provide a total solution in one piece of equipment rather than time consuming gym routines and ineffective, cumbersome alternatives.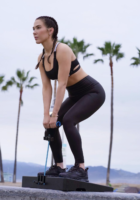 The COBA Board Glute Trainer enables 8 primary glute exercises: Traditional Squat, Kickback, Donkey Kick, Hip Thrust, Glute Bridge, Hip Abduction, Lunge, and Deadlift. Plus over 25 total body exercises. You can access exercises and instructions on the free mobile app at Apple or Google.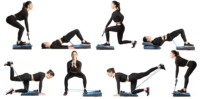 Form Meets Function:
The COBA Board is commercial grade in construction and can handle hundreds of pounds of force. Weighing only 12 pounds, it's compact and easy to store. The platform is made from high-quality, injection molded plastic on a 7-degree incline with a thick surface pad for knees. With three bands providing customizable levels of resistance and a variety of uses, the potential combinations of COBA Board Glute Trainer's counterbalance exercises are endless. A workout library and accompanying app allows you to customize your counterbalance workouts for the best results.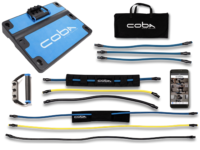 Founded by Jim Duffy, former Division I hockey player, along with his daughter Jordan, a lifestyle editor and fitness buff, Pure Glutes LLC developed, tested and patented a more effective way to build a better butt with the revolutionary COBA Board Glute Trainer.