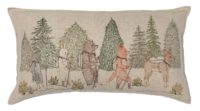 u003cdivu003eHikers Pillowu003c/divu003e
Hit the trail with cat, rabbit, bear, and fox as deer leads the way! Each woodland friend is ready for the wilderness wearing a backpack and bandanna. With their trekking poles, they hike up switchbacks through a pine filled forest and wildflower meadow. Pillow measures 26" x 14".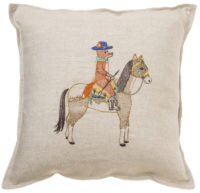 u003cdivu003eScouter Pillowu003c/divu003e
Fox scouter is setting out on a very, very important adventure. Lean back, rest your head and crack a book – there's adventure awaiting. Pillow measures 16" x 16".
Material and Care
Pillow Cover:
Embroidery on 100% linen fabric. Back fabric is 100% linen.
Coral & Tusk uses linen made from 100% unbleached and undyed natural flax fiber. There is inherent beauty in the shade variation from one crop to another.
Linen is an incredibly durable fabric, and can be laundered in many ways. Over time, linen softens with multiple washes, enhancing the texture of the fabric. If you prefer a natural linen look, feel free to machine wash and line dry your favorite Coral & Tusk pillow covers. To keep your linens crisp and smooth, consider spot clean treatments or dry cleaning.
For a complete care guide please review the Coral & Tusk FAQs
Pillow:
100% Polysilk™ insert
Polysilk™ is a hypoallergenic, down-alternative fill