Setting off on an Airstream adventure means setting off into the unknown. The thrill of hitting the road is the feeling that you don't know what's in store. But that's the fun, and the freedom of it — Airstreamers are the masters of their fate, choosing their destination, timeframe, and state of mind. With that freedom comes the responsibility known by ship captains and forward scouts back through the centuries: It pays to be prepared.
That's why many Airstreamers carry an arsenal of tools – from generators to power drills, work gloves to rivet kits – to help navigate any situation. And when it comes to digging, breaking, and moving earth – from creating a level spot to clearing debris or tossing dirt on the fire – there may be no better tool than a Delta Pro Collapsible Shovel from DMOS.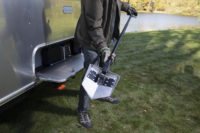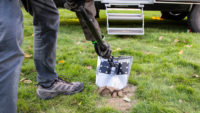 Choose from Two Blade Options: Anodized Aluminum or Stainless Steel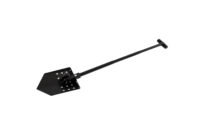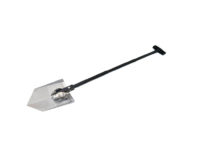 Whether you're digging a fire pit, raking out the ashes in the morning, or leveling off the ground for better stability, a good shovel can be one of the most helpful travel tools. But with space a premium in the Airstream, a full-sized shovel is impractical.
Enter the full-sized, fully-collapsible, super-durable shovels from DMOS. Their Delta Pro shovel has become a standby in the Airstream world for its combination of strength and portability. Fully-telescopic to the size of your standard garden shovel, the Delta Pro collapses down to an Airstream-approved size that fits in most external Airstream compartments. And you can easily convert the Delta Pro from a shovel into a spade. Move dirt by dragging or pushing, or break up loose soil or rocks at your campsite with ease. Then stow it away and out of site.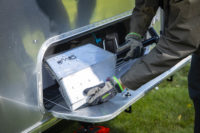 The expert workmanship and top-grade materials mean your DMOS collapsible shovel will wear its use scratches with pride – but like an Airstream travel trailer it will never rust. Versatile in use as a shovel or hoe for off road, camping, and survival situations.
Details
The DMOS Delta Pro Shovel with Anodized Aluminum Blade
Fully-collapsible, durable, and anodized for the most durable finish DMOS makes. Both the shovel head and extruded shaft are American-made from premium 6061 aluminum. Like everything DMOS makes, this tool will become your go-to and wear its use scratches with pride – but like your Airstream, it will never rust.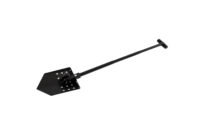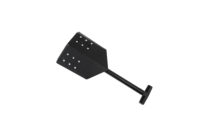 Blade Material: Aluminum
Shaft Material: Aluminum
Blade Dimensions: 11" x 13" x 2.75"
Blade Thickness: 0.100"
Collapsed Dimensions: 24" x 11" x 2.75"
Extended Dimensions: 51"
Weight: 3 lb 8 oz
Temperature Range: -40 ° - 150 ° F
Force: 10 to 1 Fulcrum - Can Lift 1,000 Pounds
The DMOS Delta Shovel with Stainless Steel Blade
American-made from premium 14 gauge cold-rolled steel blade and 6000 series aluminum extruded shaft. This is the strongest, full-sized compact shovel ever made. Use it for trail building, off-road, survival, hunting, camping, or even at home in the garden. This will be your go-to tool for a lifetime.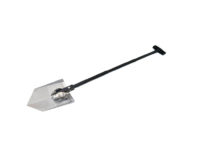 Blade Material: 14 gauge cold-rolled steel
Shaft Material: Aluminum
Blade Dimensions: 11" x 13" x 2.75"
Blade Thickness: 0.100"
Collapsed Dimensions: 24" x 11" x 2.75"
Extended Dimensions: 51"
Weight: 3 lb 8 oz
Temperature Range: -40 ° - 150 ° F
Force: 10 to 1 Fulcrum - Can Lift 1,000 Pounds