This Auto Detailing Kit is designed to quickly and efficiently remove dust from both the interior and exterior of your Airstream or vehicle. With the power of The Original California Car Duster™ that makes your car or trailer look as if it was just washed, combined with The Original California Dash Duster™ that easily removes dust from your car's interior – you'll have everything you need for a quick detail.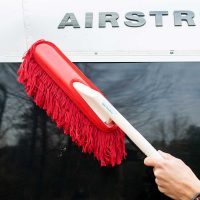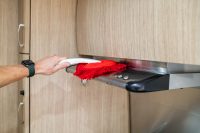 How it works
These dusters are manufactured with 100% cotton mop heads that are treated with a paraffin wax that lift dust from the surface.
Care and Cleaning
The California Car Duster can go years without washing and in most cases works just as well as the first day. Best practice is to simply shake the duster out after use. On occasion, you may blow the mop out with air.
Step By Step:
Wash the duster by hand, leaving the mop on the handle.
Clean the duster in cool water mixed with a small amount of a mild detergent (i.e. Woolite)
Rinse clean with fresh, cool water.
Let the duster air dry (this may take a couple of days)