What's old is new again
Only the most ingenious ideas stand the test of time. While the technology behind applying enamel to dishes, plates, and other cookware might not rank up there with other ancient ideas like the wheel, the pulley, and inclined plane, it could be argued that enamelware is a timeless process that's perfect for our modern lifestyle. Like Airstream travel trailers, enamelware is both timeless and modern. Now, Airstream Supply Company is excited to offer enamelware – shatter-proof, oven-safe, campfire-safe, and perfect for stocking your travel trailer's cupboards – by our friends at Crow Canyon Home.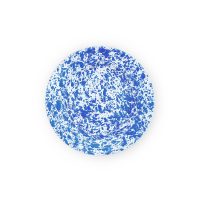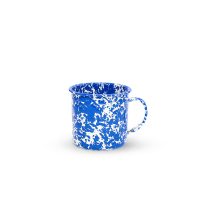 A colorful history
Vitreous enamel has been used as an artistic medium on statues, dishes, and other vessels as far back as Ancient Egypt. The technique gained popularity among different cultures worldwide, including Greece, Ireland, Great Britain, Persia, and China. After 1840, the first enamelware pots were popularized, and the practice quickly spread to other cooking vessels, underground pipes, and bathtubs. As developments in working with sheet metal made widespread production more possible, the iconic designs we still see today were born and popularized in Europe and the United States.
The process
Under extremely high heat, Crow Canyon Home porcelain is fused onto the steel base, making it safe for the oven and all heat sources. From there, the items are hand-dipped multiple times to build a porcelain base cover and top-coat that can withstand any heat source, including open flame. For their traditional splatterware pattern, a second color is actually flicked on by an artisan using a specially-designed brush. The marble pattern naturally varies from piece to piece, making each one a unique collectible.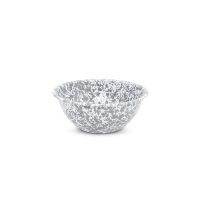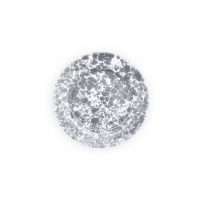 Tableware to make your life easier
Enamelware is a classic camping and kitchen staple that is made to be collectible and last for generations.
Mix and match from 4 different dining pieces:
8" salad plate
10.25" dinner plate
20 oz cereal bowl
24 oz jumbo mug
In 2 different colors:
Product care:
Dishwasher safe
OK to use on oven, grill, stovetop and campfire! 
Do not use in microwave
Do not use abrasive cleansers or hard water stain removers on the surface.