Fire Safe fosters campfire and cooking experiences with friends and family while minimizing the environmental footprint that campfires often leave behind. We love the products from Wolf and Grizzly, because they sweat the details. This is – by far – the best portable fire pit for all your adventures, no matter where they take you.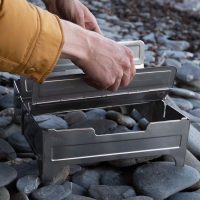 Fire Safe was designed and engineered specifically to maximize efficiencies while minimizing its consumption. Airflow direction has been carefully engineered to create an efficient and clean burn of charcoal or wood in strong-to-light wind conditions. Wind shielding provided by the frame ensures you light and keep your fires hassle-free. Its segmented, corrugated design allows you to add charcoal to only the areas you wish to heat, allowing you to use just enough fuel to cook your meal, rather than wasting monumental amounts of charcoal. The insert was designed to require less so you can do more. In fact, Fire Safe requires 26% less fuel per unit of surface area than its closest "competitor". After use, the same component that allowed for efficient airflow acts as a scoop for the ashes, creating the first disposal-conscious fire containment base.
The patent-pending hinged collapsible design allows for a large fuel capacity and mighty fire while maintaining a packdown size slimmer than 1" and a weight of less than 2.2lbs. This enables you to go on any kind of adventure (big or small) while minimizing the space it takes up in your bag.
Features:
Offers versatility in your fuel of choice whether it be wood or charcoal.
Engineered to direct air to the places that need it and shield it away from the places that don't.
Designed for segmented fuel containment for burning efficiencies.
Top insert acts as an easy scoop ash disposal to ensure minimal trace is left.
Packs down to slimmer than 1" thanks to patented hinged design.
Compatible with the Compact Backpack Grill M1 by Wolf and Grizzly for a beautiful and fully fledged cooking experience.
Included carrying case contains modular pockets for your accessories and kindling.
More from Wolf and Grizzly