From our friends at Oxford Pennant comes this perfect camp flag for the flamingo fans. Whether you hang it in your Airstream or on the wall of your home office, show your love for this symbol of retro RV kitsch.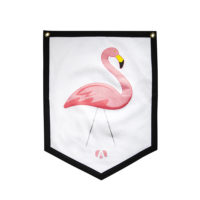 Crafted from cut-and-sewn wool felt with a screen-printed design, this flag measures 18" x 24".
Not recommended for outdoor use.