Ensure passing motorists can see you while parked on the road side with these Flashing Roadside Emergency Disks from Wagan Tech. The original F.R.E.D. Light, Wagan's FRED Lights are shatterproof, dustproof, rain-proof, and DOT compliant under 49CFR §392.25 & §393.95(g).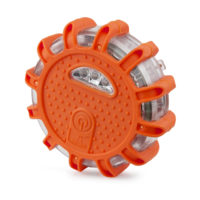 Details:
New Upgraded Internal Components
Wagan Tech's DOT compliant FRED Light has been redesigned with a new switch and perfected battery regulation. The redesigned switch is intuitively designed to allow easier mode manipulation through all of the FRED's 10 lighting modes. The resolved PCB allows the FRED to be stored for long periods with negligible battery drain.
Safe, Bright, and Effective
Wagan Tech's Flashing Roadside Emergency Disk (FRED) is a safe, bright and effective tool for warning other motorists of your emergency roadside situation. A safe alternative to road flares, the FRED Light is IP55 rated, shatterproof, extremely bright, and is a highly versatile and valuable tool no matter what your use. An essential part of your roadside emergency kit.
The FRED light was built to be a safe and effective replacement for dangerous road flares. Road flares are great for being seen, but pose a potential fire risk and are hard to extinguish after use. The FRED light remains cool to the touch and does not emit a flame that can start fires. FRED uses bright LED bulbs that have a life span of over 50,000 hours and are resistant to shock and are extremely bright. With 9 Flash modes and a 3 LED white work light, FRED is as useful as it is versatile.
Top Notch Construction
The FRED Light is IP55 (Ingress Protected) meaning it can withstand most dust from entering its case and it can withstand low pressure water jets. For regular users, that means that the FRED is built tough – dust and water do not affect the FRED Light and it even floats.
Features:
DOT Compliant
15 LEDs
Shatterproof
Strong Magnetic Backing & Hanging Hook
360 degree visibility with up to a mile radius
9 Lighting Modes + LED Worklight mode
IP55 Rated
Safe, will not start a fire or get hot
Lighting Modes:
3-LED flashlight (white): 6 hours
Double-blink: 9 hours
Double-pulse: 9 hours
Single-blink: 38 hours
Rotate: 9 hours
SOS Help (Morse code): 15 hours
Alternating: 9 hours
Solid-on high: 5 hours
Solid-on low: 28 hours
2-LED flashlight (red): 9 hours