When it comes to cleaning your Airstream, you want something that provides superior cleaning power with abrasive cleaners that might damage the surfaces. For more than 20 years, E-Cloth has been on a mission to create incredible cleaning cloths and cleaning materials that provide high performance cleaning capability – with just water.
E-Cloth's unique manufacturing process produces high-quality microfiber materials. When you clean with E-Cloth products and water, dirt and grime is trapped into the extra small voids found within the fibers, delivering a perfect performance, every time. E-Cloth's task-specific cloths, scrubbers, and mops deliver a high-performance clean for every task, every time — with just water. Don't just push the dirt around: E-Cloth plus water gets the job done.
Building a Better Sponge
A step above ordinary sponges, the E-Cloth Fresh Mesh Pad hides a honeycombed interior that boosts airflow, so it dries faster and stays fresh longer. Extra-long, ultra-absorbent microfibers are precision-engineered to grab grease and grime from countertops, sinks, and tubs with just a wipe or two. There's no need to add sprays, pastes, or powders. Just activate the premium microfibers with the cleaning power of water. Unlike sponges, the Fresh Mesh Pad doesn't need frequent replacement. And it won't reintroduce grease and grime to the very places you're trying to clean. To refresh, just toss it in the laundry. The Fresh Mesh Pad helps you cut down on waste and clean fresh every time — using just water.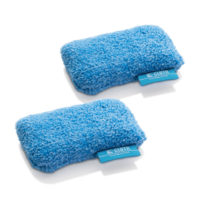 Details
Daily: Rinse and wring out your Fresh Mesh pads after use. Hang to dry.
Weekly: Machine wash up to 140°F (hot) with a small amount of detergent. No fabric softener or dryer sheets. Tumble or hang dry.
As often as you like: To clean and degrease your Fresh Mesh Pad, boil in just water.
Oops! Instructions: If fabric softener or dryer sheets are used by accident, rewash with a little detergent.