There are two truths in food: Everything tastes better outside, and everything tastes better on a grill. But for some of the best food you've eaten outside on the grill, you'll want to pack the MAGMA Crossover Series Grill Top.
It sits perfectly atop the MAGMA Single or Double Firebox (sold separately) and includes an innovative diffuser plate to provide even heat across the entire cooking surface, funnel grease away from the burner into the Firebox grease containment system, and control smoke. There's even a thermometer built into the locking lid to identify your ideal level of done.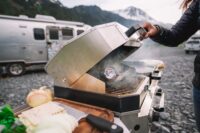 Whether you're cooking steaks, fresh vegetables or even plain old hot dogs (we love a good hot dog!), you'll know one thing is true: You'll be glad you brought the Magma Grill Top at every stop on your next adventure.
Features