For more than 153 years, Pendleton has set the standard for American style. With six generations of family ownership, the company remains dedicated to its American heritage, authenticity and fabric craftsmanship.
Thomas Kay, a British weaver, planted the foundation of which Pendleton was built upon when he immigrated to America in 1863. Kay used his expertise in weaving to set up his own woolen mill in Salem, Oregon and his legacy lives on in Pendleton's tweed, flannel and worsted wool apparel.
Kay's grandsons, the three Bishop brothers, opened Pendleton Woolen Mills in the early 1900s. They joined Kay's weaving skills with stunning Native American-inspired designs in the Pendleton Trade blanket, a benchmark for beauty and quality for over 100 years. Family-owned and operated for more than six generations, the uniquely American story of Pendleton Woolen Mills continues today.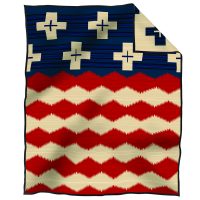 Brave Star
Throughout American history, Native Americans have made significant contributions to our country's military operations. The Brave Star blanket from Pendleton honors those contributions and the patriotic history of Native American soldiers with a contemporary interpretation of the American flag. The design marries modern asymmetry and vintage Americana. As impressive as a wall hanging as it is folded at the end of a bed.
Above and Beyond the Call of Duty
In 1875 Indian scouts carried messages from fort to fort in the West. Native American soldiers saw action with Teddy Roosevelt's Rough Riders in Cuba. And soldiers from many tribes battled in World War II, Korea, Vietnam, the Persian Gulf and Iraq. Five Native Americans have been awarded the Medal of Honor for bravery "above and beyond the call of duty."
The design marries modern asymmetry and vintage Americana. The unique striations, using pulled out yarns, reflect an era when dyes were made from plants.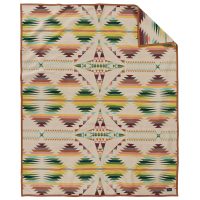 Falcon Cove
Inspired by a hidden cove on the Oregon coast, this wool bed blanket evokes the beauty of sand dunes, grasses and seaside bluffs. Woven in our American mills in a balanced, harmonious design that reverses for two slightly different looks.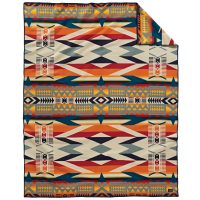 Fire Legend
A made-in-America wool blanket in a dazzling geo pattern. It's based on a Native American legend that says a hero disguised himself as a rabbit to capture fire for his people, a victory honored in this vivid design. Reverses to pattern's opposite. 
Inspired by a Legend
Manabozho, the Chippewa trickster hero, worried that his People were cold, and traveled to the home of an old man who hoarded fire. There, he used his magic to change into a small, shivering rabbit. The old man's daughters took in the cold rabbit and set him by the warm hearth while their father slept. Manabozho caught a spark on his fur and raced back to share fire with his People. And so Manabozho brought fire to his People.
This pattern shows the hearth, with combs and shawls warming by the fire.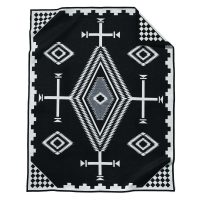 Los Ojos
Spanish crosses, diamond-shaped "eyes" (ojos) and the symbols of the Navajo Four Mountains of Creation are dramatic in any setting. The design reverses from black background to white – an achievement possible only in mills as technologically advanced as ours.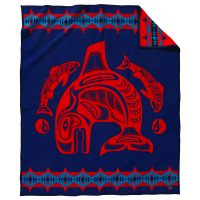 Sea Chief
The sleek and powerful Orca is a symbol of protection, believed to watch over sea travelers and lead the way home at journey's end. Orcas also represent family, as they mate for life, carefully tend their young and hunt in packs. Some First Nations people believe their strongest chiefs are reincarnated as powerful Orcas. They revere and protect these fearless hunters of the deep, also known as Sea Wolves, Killer Whales and Blackfish.
This woven-in-USA blanket is robe size, the size preferred by Native Americans for ceremonial purposes and wrapping about oneself as a robe. Impressive as a wall hanging or practical when folded on a sofa or at the foot of a bed. As an added element, this blanket gives you a dramatically different look when reversed.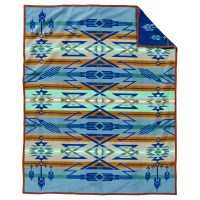 Star Watchers
Astronomy has been practiced by Native Americans since ancient times to predict the arrival of the brightest stars. Mysterious medicine wheels in Wyoming and Canada track the rising of Aldebaran, Rigel, and Sirius. The Pawnee people of the Central Plains honored Pleiades Cluster and believed the Pole Star was a protective chief who shone highest in the night sky. Pawnee lodges and villages were planned with astronomy in mind, dedicating one corner of each village to the Evening Star. 
The 'Star Watchers' Heritage Collection Blanket by Pendleton has a thick feel that keeps you warm even on the chilliest night. Its beautiful design makes it the perfect centerpiece for any and all of your decorative endeavors. Add it to your bedding, or drape it over household furniture to add that extra warmth your home has been craving. Take that warmth wherever you go by packing it in your Airstream Travel Trailer and keep comfort in your adventure.