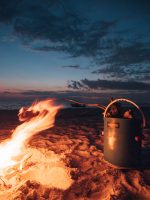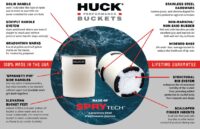 Why HUCK Buckets?
HUCK Performance Buckets is a small, Maryland-based business that proudly makes and assembles buckets right here in the great United States of America. The HUCK Performance Bucket is definitely not just another five-gallon bucket. They're loaded with ergonomic features, utilitarian function, and engineered to exceed expectations.
Your everyday, disposable five-gallon bucket is constructed of an inexpensive, ordinary high-density polyethylene – the same material used to make milk jugs and sandwich bags. While it's cheap and readily available, these products often end up in landfills.
The HUCK Performance Bucket is constructed of a proprietary blend of performance polymers known as SpryTech, specially formulated for extreme strength and durability, yet lightweight and with uncommon resistance to wear, temperature, and chemicals.
HUCK's polymer blend offers excellent UV stabilization so it won't degrade when subjected to constant sunlight, and it's BPA free so it is food-safe. Using it to construct a 5-gallon bucket changes everything.