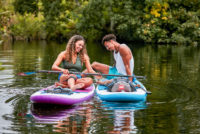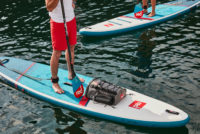 10' 6" Ride:
If you could only ever have one Red Paddle Co board, the Ride 10'6" is the one we'd tell you to get – it's already the world's most popular inflatable SUP but continues to win numerous SUP industry and consumer awards. This success is due to Red Paddle's unrivaled quality, durability and innovation, as well as the versatility of the Ride 10'6″ inflatable SUP.
It's designed to float and glide easily on flat water, and it has just the right amount of curve in the plane shape so it rides smoothly and predictably in surf, no matter what kind of rider you are. The deck pad offers comfort and grip, and practical cargo tie-downs complete an iconic package. The diamond cut rear section provides even greater grip and stability when performing step back turns or during occasional use in the surf. It comes with Red Paddle's industry leading Titan pump, allowing you to inflate your board in half the time with half the effort. Best of all: Everything packs down neatly to fit into the all terrain backpack, making transportation and storage simple.
TWIN iFINS: The Ride board is integrated with two super durable, flexible ifins, making the board straighter and faster to paddle than a three fin set-up. The ifins also provide increased agility and performance in the surf and make the board easier to pack down into its bag.
Specs:  
Bag Size 960mm (h) x 390mm (w) x 360mm (d)
Bag Volume 150 litres
Board Length 10'6"
Board Weight 9.95 kg / 21.89 lb
Board Width 32" / 813 mm
Dimensions 126 x 32 x 4.7 inches
Fins:  Moulded iFin System
Number of Riders: 1
Rider Weight:  Up to 100 kg / 220 lb.